You must have hosting and domain or use free one. Do not use shared account with other your projects it is unsecured. 
2. Enter available domain name or set "Use a subdomain from A2 Hosting".
3. On next page select "WordPress a2 optimized" and click "Continue".
3. On checkout page, enter your personal data for registration (postalcode etc…) And make payment.
4. After registration enter to panel
5. Go to WordPress installation
6. On the All installations page, click the Administrator icon for the desired installation to be logged into the WordPress Dashboard.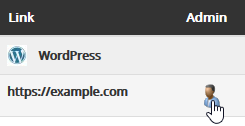 7. Plugins – Add plugin – Upload plugin (and Activate)
8. Go to Wallet options page and set "Use Wallet as home page"
9. Thats it! Enjoy your wallet!